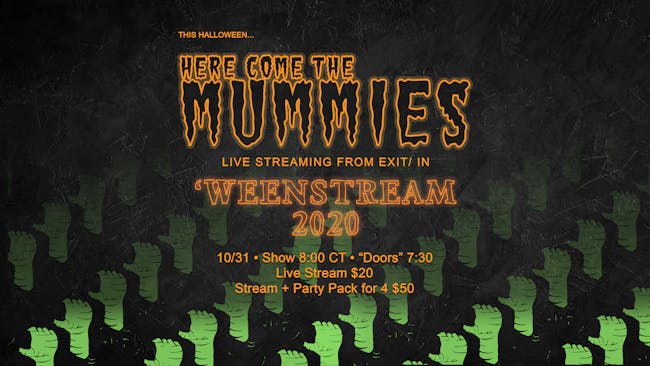 Here Come the Mummies 'WeenStream 2020
$22.00 - $52.00
Sales Ended
On Single Music
Exit/In Presents Here Come the Mummies 'WeenStream 2020
Oh, baby, what a year it hasn't been! We're gonna do what we can to fix that right freakin' now! We're bringing you Here Come the Mummies' 'WeenStream 2020! It's a live stream comin' to you from the Legendary Exit/In on 10/31 at 8PM CT.
It's $20 for the stream (cheap date), or $50 for the stream plus exclusive party pack (serves 4), featuring HCTM branded party items, while supplies last (avail until 10/16 to allow time to ship).
Each 'WeenStream 2020 Party Pack Serves 4. It contains:
-1 12oz "5-Hour Exhumation Energy Serum", to use as a mixer.
-1 "Embalming Fluid" cocktail recipe. (You provide your own booze, baby.)
-2 packages of "H'Orville Deadenbacher's Original Bluttery Popcorn"
-4 HCTM "Kiss of Death" Chocolate Kisses
-10 HCTM "Tooth Decay Premium Mint-Ohs"
-Plus assorted tasty bits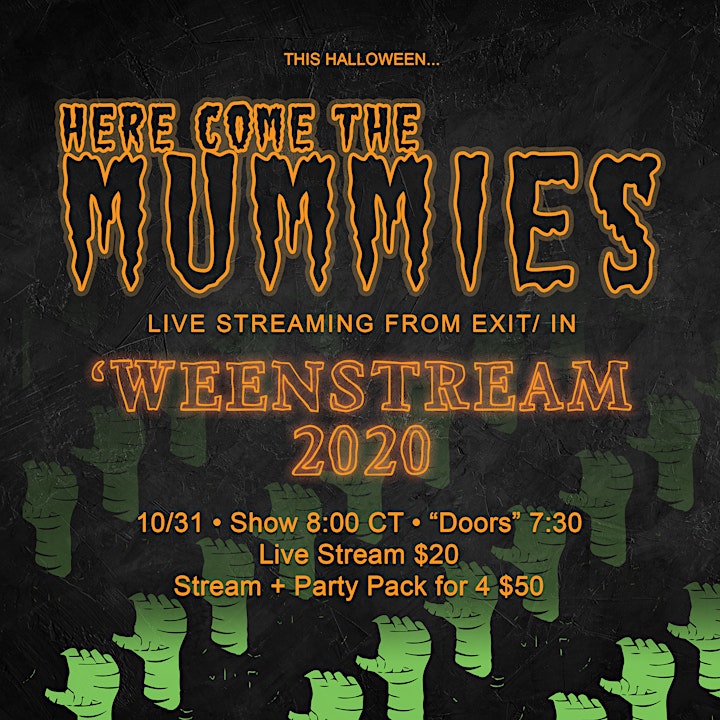 Venue Information: