Anti-Flag w/ Grade 2 & Doll Skin LIVE at EXIT/IN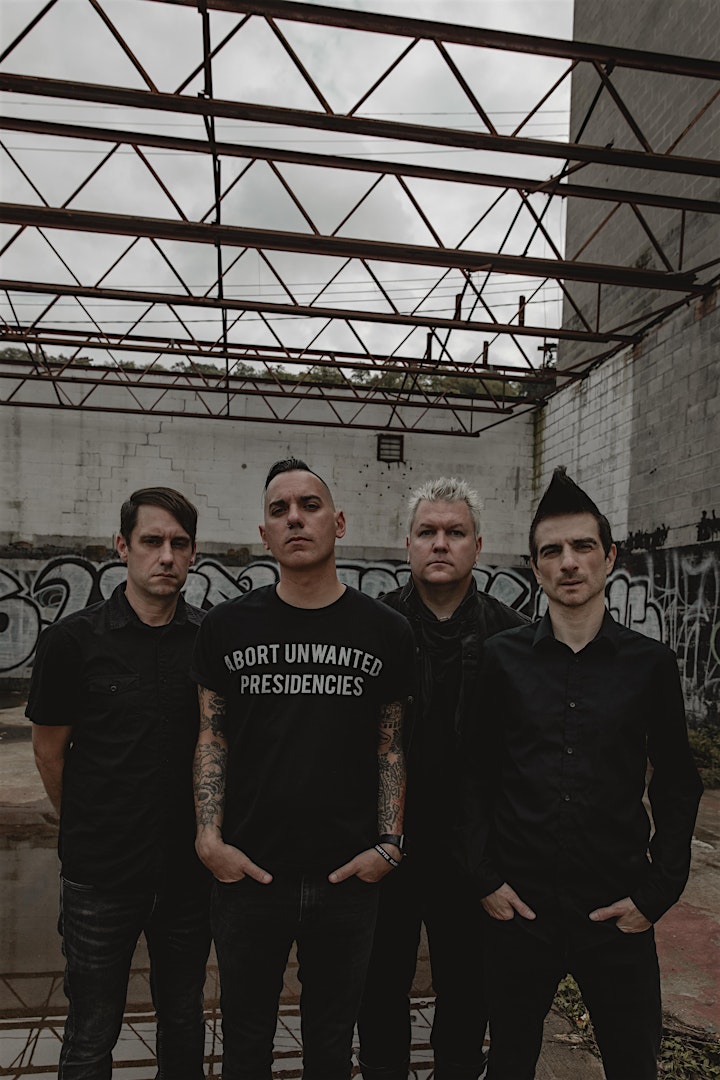 Anti-Flag
Anti-Flag is a political punk band, which is obvious from their name
alone. But over the course of 12 albums across more than 25 years
together, they've rarely set their sights on singular individuals in
songs. Unlike their punk predecessors in the 80s, who made targets of
Reagan and his cronies, Anti-Flag has always opted not to date their
work with current references, instead focusing on fighting ongoing
oppression and dismantling deeply rooted systems of injustice. But on
their new album, 20/20 Vision, the band is drawing a big, fat line in
the sand.
"We have actively chosen to not attack Presidents directly, either
with album art or songs about certain times in history, because we
recognize that the issues we're dealing with are cyclical," says
bassist Chris #2. "But this record in particular, we kind of said,
well fuck that, we need to be on the record in opposition to the
policies of Donald Trump and Mike Pence."
"This record is a warning to people holding neofascist ideas or people
who are enabling these types of positions, whether you're outright
racist or you're enabling racism or sexism or homophobia or
transphobia," adds guitarist Justin Sane. "You need to make a choice
at this point. What we've seen with this White House is that there's
no grey area anymore."
Produced by From First to Last's Matt Good, 20/20 Vision (Spinefarm
Records, January 17, 2020) kicks off with a soundbite of Donald Trump
speaking at a rally. And while just about anything the man has said
over the last few years would make for a fitting sample on a punk
record, Anti-Flag were deliberate in their choice. "In the good old
days, this doesn't happen, because they used to treat them very, very
rough," Trump is heard saying over the opening track, "Hate Conquers
All." "And when they protested once, they would not do it again so
easily."
"What I found compelling about that particular Trump sample is that
it's the quintessential move that he pulls, which is: Say the thing
into the world early, so that when it happens later, people are
already accustomed to it," says #2, who believes that dissenters like
journalists, protestors, and punk bands are not far down on the list
of those who will eventually be rounded up and detained. "We've always
cautioned that if you're not standing up for the most marginalized and
the most oppressed then you're not truly free."
"Hate Conquers All" seeks to dissect the lexicon we use around racism
to hold ourselves more accountable. "The song is a kneejerk reaction
to the idea of Love Trumps Hate and this idea that love can beat back
hatred," notes #2. "That equates racism with hatred. That's a false
equivalence of what the language should be. If you're racist, you're
racist. You don't just hate people. It should be considered a much
more vile term."
Later on the album, "Christian Nationalist" calls out those hiding
behind religious zealotry to mask their neofacism, and the chorus
makes it clear that these people will be held accountable: "We all
know who you are!"
"When you listen to David Duke talk, you're listening to Donald Trump
talk," Sane says of the track. "These people hide behind the veneer of
suits or speaking well and the various ways in which they hide their
bigotry, but the reality is that they're just as bad as the fascists
in the 1930s or the segregationists in America.
"I'm not saying doxxing is OK, but I think it is important to let a
community know that their neighbor is a racist who was chanting, 'Jews
will not replace us!' There has to be accountability."
On 20/20 Vision's title track, the band takes a deliberately poppy
approach to grappling with a tough pill they've had to swallow
recently: Seeing elements of the framework that punk bands like
Anti-Flag have established over the last couple of decades as it is
coopted and used as talking points by the alt-right.
"The roadmap that we created in the 90s, of alternative media and
forms of communicating, was a left-wing strategy to bring truth to
power," says drummer Pat Thetic. "The right wing has very effectively
taken all those skills we learned in the 80s and 90s and turned them
against the left. That's been a challenging thing for us, to see the
strategies that we grew up with being used against us in such an
effective way." And while the newscycle moves faster than ever before, 20/20 Vision
aims to take a step back and stare down the most pressing problems of
our time: kids in cages, the fentanyl crisis, rolling back EPA
restrictions. It's a record that at once feels both timely and forward
thinking. 20/20 Vision is a work that Anti-Flag hopes will serve as an
immediate form of communication with those who are politically engaged
as well as a document of our modern times for a future generation.
As #2 puts it: "We hope that when someone trips over this record in
the sand of the post apocalypse, they'll know that there were people
who once stood in opposition to all of this."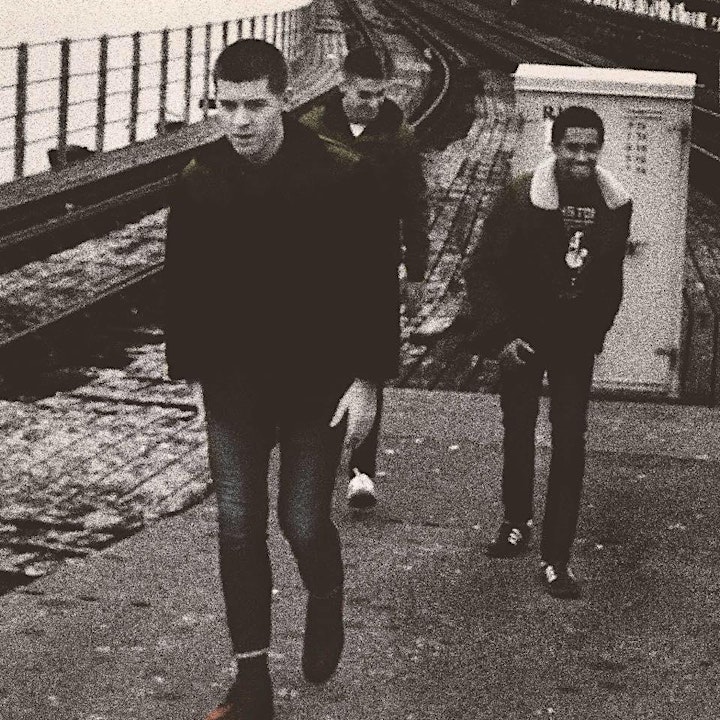 Grade 2
Grade 2 understand that the first rule of punk rock is to make something happen.
Formed in Ryde on the Isle of Wight in 2013, when its members were schoolboys aged just 15, the three musicians quickly discovered that their options on a small island south of Southampton were limited. Casting their gaze upon wider horizons, the group boarded the Isle of Wight ferry for shows on the mainland, and, in time, concerts in continental Europe and, lately, the United States.
It was on one such jaunt that Grade 2 met Lars Frederiksen, the rhythm guitarist with, among others, Rancid. Himself no stranger to operating at the budget end of the touring market, Frederiksen looked at the English lads' sense of derring-do and liked what he saw. The two parties became friends.
"We told him we were getting ready to do a new album," says Jack Chatfield. "Originally he thought about producing it, but he said that he didn't think he was that he was the right person for the job. But he told us to leave it with him, and then he came back to us and told us that he'd had a word with Tim…"
Tim, by the way, is Tim Armstrong, Frederiksen's bandmate in Rancid. As well as this, Armstrong also operates the punk rock record label Hellcat, to whom Grade 2 are now signed. Lars told the band that he'd shown Tim some of the band's videos – taken from their first two albums; Mainstream View and Break The Routine, from 2016 and 2017 respectively – and that his friend had liked what he'd seen; so much so, in fact, that he'd like to produce the trio's forthcoming record.
"For about a year we were demoing tracks and sending them over to him," remembers Sid Ryan. "We worked really hard to make sure we were ready to go."
Last December Grade 2 flew to Los Angeles, and, over the course of two weeks, tracked the dozen songs that comprise Graveyard Island, their third LP.
"I reckon Tim is one of the most efficient people we've ever worked with," says Sid. "We all knew exactly what we wanted. . In the studio, we wanted to capture how we sound onstage, so we were tracking songs fully live – guitar, bass and drums – with a scratch vocal. We were tracking four songs a day. What's more, when we were in there we ended up writing another eight songs with him. We went out there with eighteen songs, and by the time we'd finished we had twenty six!"
The result is Graveyard Island, an album that offers proof that punk rock is still as relevant in 2019 as it was in 1976. As Grade 2 themselves sing on the tub-thumping "Dover Street", it may well be "hard to keep your head up when life seems so bleak, but this is a place where the soul can live for free." With songs that make their point like a punch on the nose, this is the sound of a fraternity hanging tight through tough times and becoming all the tougher because of it. Raw like sushi and as catchy as an airborne disease, the record provides a master class in how to make a watertight point using muscle and melody.
"Although we're more than forty years on from when punk began, I actually think the times are very similar now to how they were back then," says Sid. "The political climate today means that people see the worst in everything, which means that for us there's a lot to write about. Basically, everything in the country is pretty much turning to shit! There are certain parts of our record that would make sense were it released in 1976."
But as well as bringing anarchy to the (southernmost tip of the) UK, Grade 2 are also products of their time. Opening track "Tired Of It" – "I'm tired of it when they say privacy's a privilege" - and closer "On The Radar" – "they know where you've been, they know what you've seen" - deal with the absence of privacy in the modern age.
Elsewhere, on "Murder Town" the trio take a frank but affectionate look at what it means to be a band that earns its living on the road, and the sacrifices this involves. Still, the band have no regrets, as they sing in the lines "I've cancelled my subscription to your way of strife/I've penciled my subscriptions to a new way of life."
But as well as being a state of the union address and a dispatch from the passenger seats of a splitter van, Graveyard Island also sends postcards from the band's local ends. The Isle of Wight is the seaside, after all. So if you'd like to know what's going on down on "Bowling Green Lanes", "I've got a twenty in my wallet and it's pissing down with rain." And while there might not be as much to do over on "Dover Street", there is a crowd of people who care for each other with whom to do it. They gather "in a basement of a church," where it's "damp and its dark." But that's okay because they "keep it warm from the fire in our hearts." Outside is the beach, from which "you can see the outside world" and "nothing's out of reach."
Like many a fine punk band – in fact, like Rancid themselves – Grade 2 use poetry to combine the sinister with the mundane, and then play the results at a volume that is considerate of their neighbours – they turn it up loud so they can hear it, too.
"There's also a lot of new bands that are making a new name for punk, like Slaves and Idles," says Jack. "And then you've Amyl & The Sniffers over in Australia. So it seems like punk's re-energised at the moment, and I like to think that we're a part of that. It's great that that rough DIY sound is making a comeback."
Armed with a new album that finally captures the band in all its spirited energy, Grade 2 are planning once more to get in the van and to bring the noise off the island.
"I want us to be a band that stands the test of time," says Jack. "I want to be able to listen back to Graveyard Island twenty years from now and go, 'Yeah, that still sounds good; it still sounds relevant.' And if we can manage that, we've got a chance to make not just the songs last, but also the band."
"And that's what we really want to do," adds Sid. "We want to go out there and do this as hard as we can, and for as long as we can."
Why?
"Because the last thing in the world we want is to have to go out and get proper jobs," he says, sounding like the punk that he is.
Doll Skin

Lead Vocals - Sydney Dolezal

Guitarist - Alex Snowden

Bassist - Nicole Rich

Drummer - Meghan Herring

No refunds - No exceptions.

Lineups and times are subject to change.

Any ticket suspected of being purchased for the sole purpose of reselling can be canceled at the discretion of EXIT/IN and/or Eventbrite.

Valid government-issued photo ID required for entry.

Tickets available at the door (if not sold out).

No re-entry.

Venue Information:
EXIT/IN
2208 Elliston Pl
Nashville, TN, 37203